After Barbara Walters, the Other Media Stars Who Go to Bat for Israel
×
[contact-form-7 404 "Not Found"]
The death of acclaimed journalist, anchor, and talk show host Barbara Walters at the age of 93 was met with sadness in the media world last week.
Described as "trailblazing" and a "legend" in tributes, Walters was known for her tough interview style that saw her grill some of the world's most famous politicians, including Russian President Vladimir Putin, who she memorably quizzed on whether he had ever personally ordered anyone's death, and Syrian dictator Bashar al-Assad.
A lesser-known detail about Walters that Jewish media outlets have highlighted was her long-standing affinity with Israel, which reportedly began after paying a visit to interview the then-Prime Minister Golda Meir in 1973, after which Walters was said to have commented: "To my great surprise, Israel overwhelmed me and aroused feelings I never knew I had. I couldn't get over the beauty of the land itself, at once rocky and arid, yet lush where the Israelis had ingeniously brought water to the desert. I felt a startling and quite strong connection."
In addition, Walters is said to have maintained friendships with several high-profile Israeli politicians, including late prime minister Yitzhak Rabin, and military leader and former defense minister Moshe Dayan.
Related coverage
February 7, 2023 11:44 am
It should also be noted that one of Walters' most significant television moments was her joint interview with Israeli Prime Minister Menachem Begin and Egyptian President Anwar Sadat in 1977 — amid the negotiation of the historic Egypt-Israel peace treaty — which marked the first time the political adversaries had ever spoken publicly together.
While Walters may have been trendsetting in many ways, normalizing the support of Israel in the media world was sadly not one of them.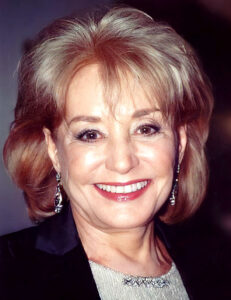 A notable example of this hostility came when Mayim Bialik was announced as the new host of the quiz program "Jeopardy!," and respected news organizations like The New York Times and The Daily Beast ran articles questioning her suitability for the role given her past support for the Israel Defense Forces.
But despite the pernicious campaign to silence pro-Israel media personalities, there are thankfully some high-profile journalists and commentators who have refused to buckle under the overwhelming pressure to repudiate Israel.
Jake Tapper
While CNN's coverage of Israeli issues has been criticized by HonestReporting on numerous occasions (see here and here), award-winning CNN anchor Jake Tapper is rare among his colleagues for his more sympathetic views on Israel.
For example, Tapper has called out BDS-supporting US Congresswoman Rashida Tlaib (D-MI) several times in the past few years, including when he challenged her blatant hypocrisy for singling out Israel for boycott action.
In the same 2019 interview, he forced her to clarify whether Israel has a right to exist, with Tlaib pushed to admit her belief that the Jewish state exists as a "detriment" to Palestinians.
On another occasion, Tapper questioned the Democrat Congresswoman's motives when she tweeted her concern that US President Joe Biden had tapped Antony Blinken for the role of Secretary of State.
In response to the nomination, Tlaib bizarrely tweeted that she had no objections to Blinken provided "he doesn't suppress my First Amendment right to speak out against Netanyahu's racist and inhumane policies. The Palestinian people deserve equality and justice."
Insinuating that Tlaib's comment on Blinken, who is Jewish, was motivated by antisemitism, Tapper in a since-deleted tweet replied: "[What] is it about Secretary of State–nominee Blinken that he makes the Congresswoman think that he would try to suppress her views about the Prime Minister of Israel? Hmmm."
During the May 2021 Hamas-Israel war, Tapper was one of the few mainstream media pundits who correctly noted that Israel has a right to defend itself in the face of indiscriminate rocket fire by a proscribed terrorist organization.
Speaking to Congresswoman Pramila Jayapal (D-WA), who had been critical of Israel's defensive actions, Tapper opened the segment by asking: "What do you think the appropriate response for the Israeli government and military should be given that this particular military conflict began 10 days ago with Hamas firing rockets indiscriminately at Israeli civilians?"
The question was a breath of fresh air during the two-week conflict, which saw mainstream media journalists line up to chastise Israel's response to being attacked (see here and here).
Conan O'Brien
American talk show host and comedian Conan O'Brien was notable for an earnest attempt to understand both sides of the Israeli-Palestinian conflict in a television special called, "Conan Without Borders: Israel."
In the episode, which aired in 2017, O'Brien spoke to people on both sides of the debate as he traveled to locations including Tel Aviv, Jerusalem, and Bethlehem and spoke to individuals such as Israeli Prime Minister Benjamin Netanyahu and Wonder Woman actress Gal Gadot.
While O'Brien agreed with the assertion that Israel's West Bank barrier is "not normal," he acknowledged the grim reality that it is a "security measure built to protect against terrorist attacks and has resulted in a dramatic drop in Israeli deaths and casualties."
During his visit, O'Brien also lavished praise on Israel and its citizens, jokingly calling Tel Avivian men "incredibly buff," while the women are "beautiful," and arranging a fake bar mitzvah at a synagogue.
Howard Stern
So-called shock jock Howard Stern is famous for conducting some of the most outrageous interviews in radio history. Aside from teasing Hollywood stars about intimate details of their private lives, Stern has also used his platform to take to task celebrities who have bashed the Jewish state.
One such example was when Stern suggested Pink Floyd musician Roger Waters was an antisemite for his vocal support of the racist BDS campaign, which seeks to ostracize and eventually dismantle Israel:
What is with Roger Waters and the Jews? Why does Roger Waters live in America, a country that was founded on white people coming in and obliterating the native population? How does he stand it? Why don't we all leave?

There are so many Arab countries and so much land around Israel that if you threw a pin in a pool, that's what Israel is. Picture a desert with no natural resources, no water, no oil. It was a sh*thole that nomads would essentially walk over. So they figured, where's the one place they can stick Jews where no one will be offended.

Where do you want the Jews to go Roger? Where do you want them to go? You want them to just go back to the concentration camp?
During the 2014 Gaza War, Stern noted that Israel was not at fault for the conflict that was triggered by the kidnapping and murder of three Israeli teenagers by Hamas-affiliated militants.
He also touched upon an oft-overlooked fact about Israel, which is that it is the only democracy in the Middle East, asserting that, "if you're anti-Israel you're anti-America. [It's] the only democracy over there, the only friend we have… who's willing to fight and stand up for what's right."
Julie Burchill
A self-described philo-Semite and Christian Zionist, British columnist Julie Burchill is a longstanding supporter of Israel, which she traces back to both learning about the Holocaust and witnessing the "bravery and the good looks of the IDF soldiers [she] saw on television in the 1970s when [she] was a teenage girl."
In addition to frequently jumping to the defense of Israel, including by chastising "Palestine's showbiz supporters," she has passionately argued the case that anti-Zionism effectively amounts to antisemitism.
For example, in a June 2021 blog post for the Spectator, she posited:
Recent events in the Middle East – basically Hamas wanting to kill most of the Jews in Israel, and most of the Jews in Israel stubbornly refusing to hold still and be killed – have got the chorus line hopping over here too, causing Dame Maureen Lipman to resign from the actors union Equity after it backed a pro-Palestine demo at which anti-Semitic banners were displayed … It's like being back in the 1930s, with anti-Semitism on the rise all through Europe and Hollywood having to christen (literally) the actress Betty Weinstein Perske as Lauren Bacall.
Burchill discussed at length her love of Israel in her 2014 memoir, "Unchosen: The Memoirs of a Philo-Semite," in which she revealed she had been learning Hebrew in an interview given to the Times of Israel.
Bill Maher
Currently helming his own political talk show on HBO, Bill Maher has repeatedly and robustly defended Israel in the face of an onslaught of criticism by opponents of the Jewish state.
In May 2021, Maher hit out at celebrities who lambasted Israel on social media for defending itself against Hamas rocket fire, observing that it was impossible to "learn history from Instagram," while highlighting key aspects of ancient Jewish history.
He also challenged New York Times columnist Nicholas Kristof, who claimed some of Israel's strikes on Gaza should constitute war crimes if what Kristof deemed the sufficient amount of care was not taken to avoid civilian casualties.
"War is a crime," Maher shot back, explaining that Hamas deliberately hides its munitions in civilian-populated areas and rhetorically asking whether Israel has the right to defend itself against attacks by Hamas:
What if Canada fired 4,000 rockets into America? Or Mexico? Which is an even better analogy, because we actually did steal the land from Mexico.

I would submit that Israel did not steal anybody's land. This is another thing I've heard the last couple of weeks, words like 'occupiers' and 'colonizers' and 'apartheid,' which I don't think people understand the history there. The Jews have been in that area of the world since about 1200 BC, way before the first Muslim or Arab walked the earth.
Most recently, Maher interviewed Benjamin Netanyahu on his "Real Time" show, where he was asked whether Israel is an "apartheid state" that is guilty of perpetrating "ethnic cleansing." The segment allowed Netanyahu to point out that Israel is the "one democracy in the Middle East" that "upholds human rights, that defends freedom, and is America's best ally."
Hear, hear.
The author is a contributor to HonestReporting, a Jerusalem-based media watchdog with a focus on antisemitism and anti-Israel bias — where a version of this article first appeared.

The opinions presented by Algemeiner bloggers are solely theirs and do not represent those of The Algemeiner, its publishers or editors. If you would like to share your views with a blog post on The Algemeiner, please be in touch through our
Contact
page.