Here's the Truth About Israel's Lawful Treatment of Hunger-Striking Terrorist
×
[contact-form-7 404 "Not Found"]
The death of terrorist Khader Adnan is providing the Palestinian Authority (PA) with yet another opportunity to show its support for terror, and to mindlessly attack Israel. As usual, however, there is an abyss between the PA narrative and rhetoric about the event on one side, and truth and reality on the other.
Khader Adnan Muhammad Musa (Khader Adnan) was a senior member of Palestinian Islamic Jihad, an internationally designated terror organization. Prior to his final arrest, he had previously been arrested a dozen times for his involvement in terror. While on most occasions he was held in administrative detention — a security measure recognized in international law (see Art. 78 of the Fourth Geneva Convention and state practice) — this time he was indicted for membership in a terror organization and incitement to terror.
Following his indictment, a judge ordered that he be held on remand pending trial. In one of the appeals Adnan submitted against the decision to hold him on remand, the appeals court judge found that there was sufficient prima facie evidence to support the indictment and that considering the nature of the offenses, Adnan posed a danger to society sufficient to warrant his remand pending trial:
After examining the evidence and considering the arguments of the sides, I found that there is a prima facie evidentiary basis that links the appellant [Khader Adnan] to the commission of the offenses in the indictment. This evidentiary basis includes, inter alia, videos documenting the appellant committing some of the offenses in the indictment; testimony from a large number of people that directly refers to the appellant; and also physical evidence…

A central question that arose in the appeal is whether there is grounds of arrest due to danger. Considering the criminal past of the appellant and noting the nature of the acts detailed in the indictment, my conclusion is that the [court of] first instance was correct in its finding that there is grounds of arrest due to danger. I note that the evidence shows there is prima facie evidence linking the appellant to the commission of significant activity in the framework of the Palestinian Islamic Jihad (PIJ) organization, activity that included, inter alia, incitement and support for a hostile [terror] organization that was committed by him many times… [emphasis added]

[Decision of the IDF Military Court of Appeal, A"A 2321/23, April 30, 2023]
The court of first instance and the appeals court also considered whether Adnan's decision to go on a hunger strike should affect the decision, and found that accepting such an argument would cause others to follow the same course and would end in "security chaos."
Despite having exhausted his rights to appeal, and despite having been granted additional opportunities to make his claims in court, Adnan continued his hunger strike, from which he eventually died. During his hunger strike, Adnan also dogmatically refused any medical treatment, including refusing to allow the doctors to monitor his vital statistics.
To understand Adnan's true nature, it is sufficient to listen to one of his speeches exposed by Intellinews on its Twitter account after his death. In the video, Adnan, reportedly speaking at the funeral of an Islamic Jihad terrorist in October 2007, passionately asks the crowd, "who of you is the next [suicide bomber]" — referred to by Adnan as the "next Martyrdom-seeker" — who has the "next explosive belt" and who has "the next shooting?"
Islamic Jihad terrorist Khader Adnan: "O Al-Quds Brigades [i.e., Islamic Jihad's military wing], strike

O Al-Quds Brigades, shake the earth
Who among you is Hassan Abu Zaid [i.e., suicide bomber, who murdered seven people]
Who among you is the next Martyrdom-seeker?
Who among you have the next explosive belt?
Who among you has the next shooting?
Who among you has exploding organs?"

[Intellinews, Twitter account, May 2, 2023]
It is worth noting that the European Court of Human Rights case Horoz v. Turkey, no. 1639/03, discussed a similar situation to that of Israel and Adnan. Horoz (the petitioner's son) had been charged with terror-related offenses and was held on remand, where he died as a result of a hunger strike. Considering the event, the court held that there had been no violation of Article 2 (right to life) of the European Convention on Human Rights with regard to the death of Horoz, since it was clear that he had died of his hunger strike and not as a result of the authorities' decision not to release him.
Notwithstanding this clear reality, the PA narrative and rhetoric spun a different tale about terrorist Adnan.
PA Prime Minister Muhammad Shtayyeh led the charge to rewrite reality:
The Israeli occupation and its prison administration carried out a deliberate assassination against the prisoner Khader Adnan by rejecting his request for his release, neglecting him medically, and keeping him in his cell despite the seriousness of his health condition. [emphasis added]

[WAFA, official PA news agency, English edition, May 2, 2023]
In other words, according to Shtayyeh, Adnan's choice to embark on a hunger strike means that Israel is responsible for a "deliberate assassination." According to Shtayyeh, Adnan's choice to refuse all medical treatment is equivalent to Israel "neglecting him medically." According to Shtayyeh, Israel should not be allowed to reject the "request" of indicted, dangerous terrorists to be released. According to Shtayyeh's charges, apparently Israel should have forcibly transferred Adnan to some other place, rather than leave him, as he insisted, in his cell.
The PA Ministry of Foreign Affairs and Expatriates demanded no less than an international investigation into Adnan's death, and held the "Israeli occupation government fully responsible for the death of the prisoner Khader Adnan, who has been on hunger strike for 86 days." A statement from the Ministry added that: "It [the Ministry] called in a statement on the international investigation committee to also include the circumstances and details of the death of Adnan while in an Israeli prison in its investigation of Israeli crimes against the Palestinian people, stressing that it will submit the file of this crime to the International Criminal Court."
The PA/PLO's permanent representative to the UN, Riyad Mansour, lied in letters he sent to the UN Secretary-General, this month's president of the UN Security Council, and the president of the UN General Assembly, falsely claiming that Adnan had died while fighting his "arrest without indictment." [Official PA daily Al-Hayat Al-Jadida, May 4, 2023]
The Director of PLO Commission of Prisoners' Affairs, Qadri Abu Bakr, continued the lie that Adnan had not been indicted and also claimed that the case of Adnan would be sent to the International Criminal Court:
[Khader Adnan] is the first prisoner to die as a Martyr as a result of a hunger strike. Those who died as Martyrs previously died as a result of execution [when they tried to force feed them] … This is the first prisoner to die as a result of a hunger strike since 1967 and to this day. We hold the Israeli government fully responsible for his death as a Martyr. His case is one of the cases that will be presented to the International Criminal Court (ICC), because this is an obvious and clear crime…

Today [May 2, 2023] the lawyers will submit a petition to release his body, especially because he was not sentenced to life and not sentenced to many years — he was sentenced to administrative detention, he did not confess, and he was not accused of anything, he was in preventive detention.

[Official PA TV, Palestine This Morning, May 2, 2023]
The PA/PLO's representative in the UK, Husam Zomlot, tweeted a picture of terrorist Adnan holding two children and falsely claimed that he had "never been charged" and that he suffered "prolonged medical neglect":
Shamefully, despite lacking any factual or legal basis, some international functionaries and organizations swallowed the PA lies and joined the baseless attack on Israel.
The UN Human Rights Council Special Procedures — a group of so-called "human rights experts independent from any government or organization, serving in their individual capacity," tweeted a caricature of terrorist Adnan refusing food from Israel (depicted by a Star of David) and demanded "accountability" for the death of the terrorist: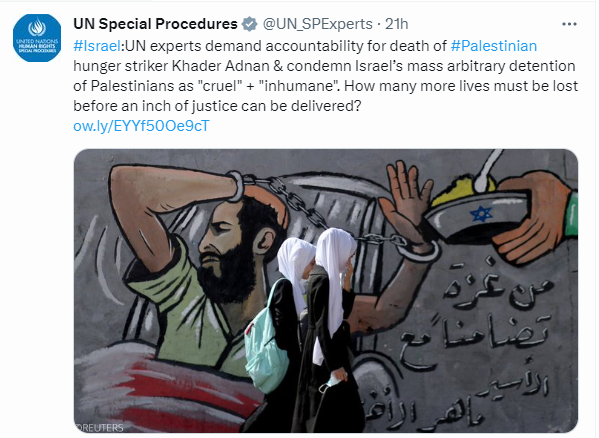 The "Israel and Palestine Director" of Human Rights Watch (HRW), Omar Shakir, who Israel expelled for his support for the antisemitic BDS movement, went even further. Before launching into a diatribe of praise for the dead terrorist, Shakir ignored the real facts, tweeting: "Make no mistake: Israel killed Khader Adnan."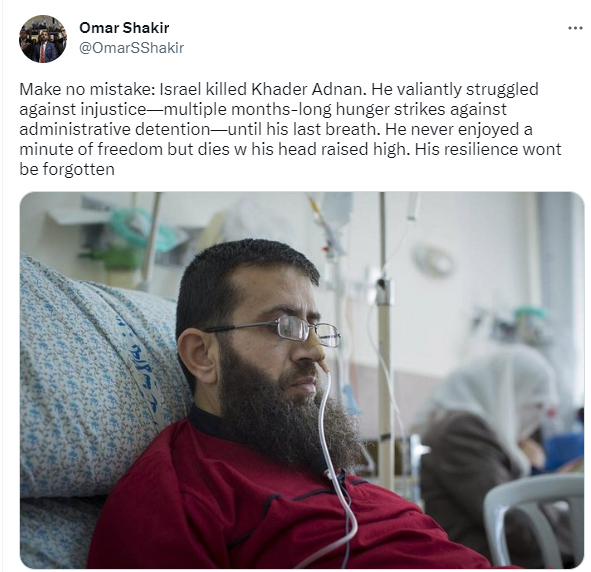 Were the UN experts and Shakir ignorant of the facts? Most probably, since they often positively choose to ignore the real facts that don't support their anti-Israel agenda.
Were they not aware of the decision in the case of Horoz? Most likely not. But in this case, similar to many other situations, they rely on their perceived credibility, assuming that the wider public will not question their biased approach.
Clearly, however, both the UN and HRW have no compunction about openly expressing their anti-Israel hostility by demanding that Israel be held to a standard separate and different from that of the rest of the world, a standard unique for the world's only Jewish country.
Maurice Hirsch, Adv. is the Head of Legal Strategies for Palestinian Media Watch, where a version of this article first appeared.
The opinions presented by Algemeiner bloggers are solely theirs and do not represent those of The Algemeiner, its publishers or editors. If you would like to share your views with a blog post on The Algemeiner, please be in touch through our
Contact
page.