Mahmoud Abbas' Fatah Praises Murder of 7: 'The War Has Begun in Palestine … We Greet and Bless These Heroic Operations'
×
[contact-form-7 404 "Not Found"]
After a bloody weekend in Jerusalem, where six Israelis and one Ukrainian national were murdered, and seven were wounded in two terror attacks, the secretary of the Jenin branch of Mahmoud Abbas' Fatah movement, Ata Abu Rmeileh, announced that "the war has begun in Palestine, all of Palestine."
Referring to two attacks in Jerusalem on Friday and Saturday, Abu Rmeileh announced Fatah's appreciation of the murders: "We greet and bless these heroic operations in Jerusalem by the heroes of Jerusalem."
Abu Rmeileh made this statement while leading a military procession in the Jenin refugee camp during which he and others shouted "Allahu Akbar," while carrying automatic rifles. Others were seen distributing sweets in celebration of the two attacks in Jerusalem:
Posted text: "[Fatah] Jenin Branch Secretary Ata Abu Rmeileh, and Fatah's message"

Fatah Jenin Branch Secretary Ata Abu Rmeileh: "We are saying that the intifada has begun, and the war has begun in Palestine, all of Palestine. It will not stop until [there is] revenge for every pure drop of blood of our righteous Martyrs in the Jenin [refugee] camp, in Jerusalem, and in all areas of Palestine. We are defending the site of our [Prophet] Muhammad's [Night] Journey. On behalf of all the fighters, we greet and bless these heroic operations in Jerusalem by the heroes of Jerusalem." [emphasis added]

Abu Rmeileh and crowd: "Allahu Akbar!"

Abu Rmeileh: "Our people is a living and resisting people that is defending itself, and it will take revenge for the blood of the Martyrs."

[Fatah Movement – Bethlehem Branch, Telegram channel, Jan. 28, 2023]
The two terror attacks were carried out by two young Palestinian terrorists, a 21-year-old and a 13-year-old:
Khairy Alqam was a 21-year-old Arab terrorist and resident of Jerusalem who shot and murdered six Israelis and one Ukrainian national — Asher Natan, 14, Ilya Sosansky, 26, Natali Ziskin Mizrahi, 45, Eli Mizrahi, 48, Rafael Ben Eliyahu, 56, Irina Korolyova, 60, and Shaul Chai, 68 — and wounded five others outside of the Ateret Avraham Synagogue in the northern Jerusalem neighborhood of Neve Yaakov on Sabbath eve, Jan. 27, 2023, as some of them were coming out from prayers in the synagogue. Alqam fled the scene in a car and then opened fire on Israeli police officers, who shot and killed him. The attack took place on International Holocaust Remembrance Day.
Muhammad Aliwat is a 13-year-old Arab terrorist and Jerusalem resident who shot and seriously wounded an Israeli father and son, aged 47 and 22, respectively, as they were walking to Sabbath prayers near the City of David archaeological site, just south of the Old City of Jerusalem, on Jan. 28, 2023. An armed Israeli civilian at the scene shot and wounded Aliwat, who was then arrested.
Teen terrorist Muhammad Aliwat was filmed by security cameras as he waited in ambush and attacked Jews walking by. Palestinian media reported that Aliwat had written a message for his mother in his school notebook, indicating his intention of carrying out an attack and seeking "Martyrdom" — i.e., death: "Allah, either victory or Martyrdom. Forgive me mother, you will be proud of me."
Despite the footage of the teen, the Palestinian Authority (PA) denied his involvement in the attack, claiming he was arrested "on the pretext that he was the one who carried out the shooting operation." The PA TV news outlet called the attack an "operation," which is a common and clear indication of the PA's approval:
Official PA TV newsreader: "The occupation forces closed off the town (sic., neighborhood) of Silwan in occupied Jerusalem and prevented the civilians and journalists from approaching the site, after they said that two settlers were wounded in a shooting operation in the area (refers to attack by terrorist Muhammad Aliwat, 2 wounded -Ed.). The occupation forces arrested 13-year-old youth [Aliwat] on the pretext that he was the one who carried out the shooting operation." [emphasis added]

[Official PA TV News, Jan. 28, 2023]
Palestinian sources indicated that the two attacks were a "response" to a gun battle in Jenin on Thursday, in which terrorists opened fire on Israeli soldiers while they were conducting a counter-terror operation. In the ensuing exchange of fire, nine Palestinians were killed, eight of them terrorists who had shot at the soldiers:
At least seven settlers were killed in a shooting that took place yesterday evening, Friday [Jan. 27, 2023], outside of a synagogue in a settlement neighborhood in occupied East Jerusalem, which was carried out by an armed man [Khairy Alqam] who died as a Martyr, according to the occupation police.

The operation [i.e., terror attack] came a day after the massacre committed by the occupation forces in Jenin and its refugee camp, which led to the deaths as Martyrs of 9 civilians [sic., refers to Palestinian terrorists shooting at Israeli soldiers during a counter-terror operation]. [emphasis added]

[Official PA daily Al-Hayat Al-Jadida, Jan. 28, 2023]
The PA blamed Israel for everything, stating that the "Palestinian leadership holds the Israeli government fully responsible for the escalation on the ground" in WAFA, the official PA news agency's English edition on Jan. 28, 2023, and also on official PA TV.
This cartoon printed in the official PA daily apparently refers to the gun battle in Jenin and the two terror attacks: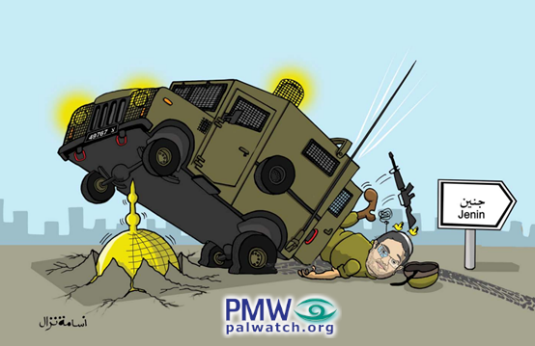 The cartoon shows Israeli Minister of National Security Itamar Ben-Gvir depicted as a soldier falling out of an Israeli military vehicle, which is driving away from Jenin as indicated by a sign marked "Jenin" pointing in the opposite direction. Ben-Gvir is falling out of the vehicle because the spike of the Dome of the Rock, representing Jerusalem, is protruding from the ground and lifting the vehicle in the air. The Dome of the Rock possibly symbolizes terrorist Khairy Alqam who murdered seven and wounded five outside of a synagogue in Jerusalem the following day, and terrorist Muhammad Aliwat who wounded two in Jerusalem the day after.
The author is a senior analyst at Palestinian Media Watch, where a version of this article first appeared.
The opinions presented by Algemeiner bloggers are solely theirs and do not represent those of The Algemeiner, its publishers or editors. If you would like to share your views with a blog post on The Algemeiner, please be in touch through our
Contact
page.