Jenin, Jerusalem, and Intentional False Equivalence
×
[contact-form-7 404 "Not Found"]
American Islamists are equating Friday's Palestinian terrorist attack that killed seven Jews outside a Jerusalem synagogue with the death of nine terrorists last week in shootouts with Israeli security forces.
"Israel and the US bear the full responsibility of the killing of 10 Palestinians & injury of 24 others yesterday in Jenin refugee camp," Council on American-Islamic Relations (CAIR) Executive Director Nihad Awad wrote Friday. "And yet the US @StateDept shamelessly condemns only the killings of Israelis."
MSNBC anchor Ayman Mohyeldin also expressed outrage at Western media coverage of the incidents.
"Just a reminder, as the Western media now begins to urgently and extensively cover the attacks in Jerusalem, in which at least 8 Israelis were killed, that 30 Palestinians (9 on Thursday alone) who have been killed in 2023," wrote Mohyeldin.
Neither man mentioned why the violence took place or who was targeted.
The Jenin operation specifically sought to detain Palestinian Islamic Jihad (PIJ) members who had shot at IDF troops. Officials also learned that the PIJ was planning imminent, major terrorist attacks.
While trying to stop the terrorists, Israeli troops immediately came under intense gunfire, the Meir Amit Intelligence and Terrorism Information Center said. In addition, surveillance video released by the IDF shows Palestinians throwing explosives and firebombs from rooftops.
Of the nine people killed in Jenin, four were PIJ terrorists, two were al-Aqsa Martyrs' Brigades members, and one was a police officer.
The rare daytime raid is a reflection of how seriously Israeli officials took the intelligence about an impending, massive terrorist attack.
The IDF said it was looking into claims concerning additional casualties during the exchange in Jenin. At least one Palestinian civilian, an elderly woman, was killed in the crossfire.
And that is tragic.
But it was clearly unintentional and happened only because Jenin is a haven for terrorist activity. Israel's choice is to mount operations such as these, or wait for more of its civilians to be murdered.
That's what happened Friday evening in Neve Yaakov. After the first terrorist attack at the synagogue, two more people were shot and wounded Saturday morning by a 13-year-old Palestinian in a subsequent terrorist attack in Jerusalem.
In the first example of the deaths in Jenin, members of a terrorist group lost a fight with Israeli security forces. Any civilian casualties were unintended tragedies. In the other instance of the terror attacks in Jersualem, killing civilians was the objective. The more dead, the better.
In the West Bank and Gaza, people doled out candies and launched fireworks to celebrate the murder of Jews.
On Facebook, the anti-Israel group Jewish Voice for Peace (JVP) blamed Israel for the terrorist attack that claimed its own citizens, saying it was "clear that the Israeli government has launched a new phase of state violence against Palestinians."
The terrorists, to JVP, bear no responsibility.
But others, like Rutgers University Associate Professor Noura Erakat, could not get over the fact that news organizations issued alerts after the Jerusalem shooting, but not following the Jenin raids.
"I don't mean to be dickish about this," a post Erakat retweeted said, "but I received no such phone alerts from @NPR or BBCNews when Israeli apartheid-enforcing militias massacred 9 Palestinians in Jenin yesterday. In fact, I never get such alerts when Palestinians are murdered."
Erakat also accused Israel of murdering "29 Palestinians in 26 days," without mentioning any terrorist connection or activity. "Yesterday's assault on Jenin was a massacre. Who will protect Palestinians?"
Erakat's sentiments were picked up and disseminated more widely by US Rep. Rashida Tlaib (D-MI)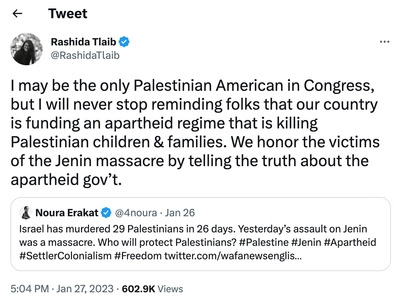 "I may be the only Palestinian American in Congress," she wrote, "but I will never stop reminding folks that our country is funding an apartheid regime that is killing Palestinian children & families. We honor the victims of the Jenin massacre by telling the truth about the apartheid gov't."
There's no exception here honoring civilians caught in the crossfire. A member of Congress put in writing her desire to "honor" those Palestinian terrorists who died before they could kill.
And efforts made to label the Jenin counter-terrorism operation a "massacre" are reprehensible, but not new.
Israel conducted similar counter-terrorism operations in Jenin in 2002. They followed a series of brutal Palestinian terrorist attacks, including a suicide bombing at a Passover Seder that killed 30 people, mostly elderly.
Reports of a "massacre" surfaced immediately following the 2002 raids, and media outlets falsely reported that as many as 1,000 Palestinians were killed. The death toll was ultimately changed to 56. Of them, at least half were members of terrorist groups.
These consistent omissions about Palestinians who die at Israeli hands are intentional. A "Palestinian youth" killed by Israeli forces sounds a lot worse than a PIJ terrorist dying in a shootout. Social media warriors understand that, even if PIJ has no problem showing the world.
"This squad [in Jenin] was a ticking time bomb," a senior IDF officer told reporters. "If we didn't act, they would have."
Had that happened, more innocent Israeli civilians would be dead, and the same terrorists likely would be killed by Israeli forces. In that circumstance, we wouldn't hear voices like Nihad Awad, Ayman Mohyeldin, and Rashida Tlaib condemning anything.
If your biggest concern in the wake of Jenin and Jerusalem is a paucity in telephone alerts, it might be time to re-evaluate your values.
Ariel Behar is an Investigative Project on Terrorism (IPT) research analyst. Research analyst Teri Blumenfeld contributed to this report. A version of this article was originally published by IPT.

The opinions presented by Algemeiner bloggers are solely theirs and do not represent those of The Algemeiner, its publishers or editors. If you would like to share your views with a blog post on The Algemeiner, please be in touch through our
Contact
page.