Fatah: Murderer of Seven Civilians Is a 'Hero Who Took Revenge' for Dead Terrorists
×
[contact-form-7 404 "Not Found"]
Fatah, the party of Palestinian Authority (PA) leader Mahmoud Abbas, has openly announced that the murder of seven civilians — six Israelis and one Ukrainian national — outside of a synagogue last month was "revenge" for the death of terrorist "heroes" who were killed by Israel in a gun battle in Jenin.
Last month, 21-year-old Arab terrorist and resident of Jerusalem Khairy Alqam shot and murdered the seven civilians and wounded five others outside the Ateret Avraham Synagogue in northern Jerusalem on Sabbath eve, as some of them were coming out from prayers in the synagogue.
Fatah Secretary in the Al-Judeida village Abu Maryam considers him a "hero who took revenge":
Fatah Secretary in Al-Judeida village Abu Maryam: "Our people in Jerusalem took revenge for the heroes of the Jenin [refugee] camp. Khairy Alqam, the Martyr, the Martyrdom-seeker, the hero who took revenge for the Martyrs of the Jenin [refugee] camp — this is national unity."

[Official PA TV News, Feb. 3, 2023]
Similarly, as exposed by Palestinian Media Watch (PMW), Fatah's secretary in Jenin "greeted and blessed" the murderous attack as a "heroic operation" carried out by a "hero":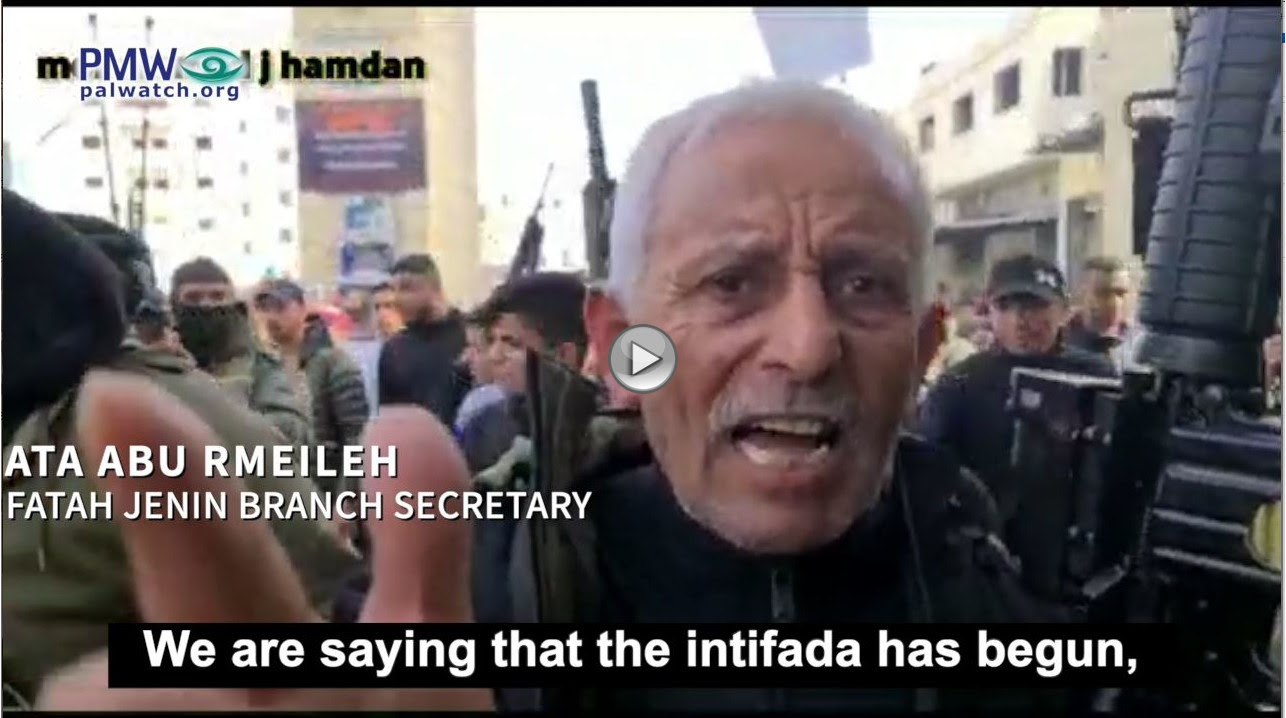 Fatah Jenin Branch Secretary Ata Abu Rmeileh: "We are saying that the intifada has begun, and the war has begun in Palestine, all of Palestine. It will not stop until [there is] revenge for every pure drop of blood of our righteous Martyrs in the Jenin [refugee] camp, in Jerusalem, and in all areas of Palestine. We are defending the site of our [Prophet] Muhammad's [Night] Journey. On behalf of all the fighters, we greet and bless these heroic operations in Jerusalem by the heroes of Jerusalem."

Crowd: "Allahu Akbar!"

Ata Abu Rmeileh: "Our people is a living and resisting people that is defending itself, and it will take revenge for the blood of the Martyrs." Visual: People distribute candy in celebration of the two terror attacks in Jerusalem

[Fatah Movement – Bethlehem Branch, Telegram channel, Jan. 28, 2023]
Since this murderous attack, other terrorists have — in the eyes of the PA — "succeeded" in killing innocent Israeli civilians, and have likewise earned praise. PMW documented yesterday that the terrorist who murdered two young children and a young man in a car ramming attack last week was praised and eulogized by the PA, Fatah, and others. One Fatah spokesperson commended him for "continuing on the path" of other terrorists.
The author is a senior analyst at Palestinian Media Watch, where a version of this article first appeared.
The opinions presented by Algemeiner bloggers are solely theirs and do not represent those of The Algemeiner, its publishers or editors. If you would like to share your views with a blog post on The Algemeiner, please be in touch through our
Contact
page.