Why Can't The Guardian Stop Publishing Antisemitic Cartoons?
×
[contact-form-7 404 "Not Found"]
When is one antisemitic cartoon too many?
That's the question Guardian editors should be asking themselves after the newspaper was forced into a retraction over cartoonist Martin Rowson's latest hideous attempt at satire.
The sketch, which aimed to provide a comment on the recent resignation of BBC chairman Richard Sharp over his previously undisclosed financial dealings with former UK Prime Minister Boris Johnson, would not have looked out of place in Nazi Germany.
Sharp, who is Jewish and an ex-banker, is depicted grotesquely — with a large hooked nose, sunken eyes, and a prominent forehead, he is shown hunched over gripping a golden box labeled "Goldman Sachs," from which protrudes a vampiric squid, hoarding a pile of gold.
It is obvious stuff: prominent expert Dave Rich explains how it draws on age-old antisemitic stereotypes and promotes the conspiracy theory of Jews secretly controlling the world via its financial institutions.
The depiction of Richard Sharp in today's @guardian cartoon falls squarely into an antisemitic tradition of depicting Jews with outsized, grotesque features, often in conjunction with money and power. It's appalling. Here's why 🧵 pic.twitter.com/RI46VmL6z8

— Dave Rich (@daverich1) April 29, 2023
Now, there is a case to be made that all of this was purely accidental. After all, Sharp did work for Goldman Sachs — infamously described by Rolling Stone journalist Matt Taibbi as a "great vampire squid wrapped around the face of humanity, relentlessly jamming its blood funnel into anything that smells like money" — and politicians and the like are frequently caricatured in a way where their features are grossly exaggerated.
However, when it comes to The Guardian and Martin Rowson, there might be some reason to believe it was anything other than an unintentional slip.
Indeed, a truly nasty cartoon of Rowson's that was ostensibly a criticism of the Israeli government, but used Jewish symbols smeared in blood to ram home his point, was once featured in HonestReporting's Dishonest Reporter of the Year Awards: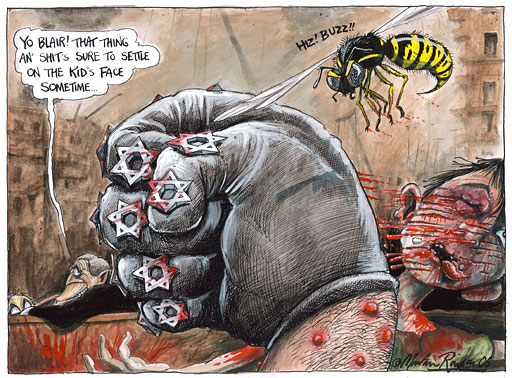 Meanwhile, in addition to publishing Rowson's antisemitic cartoons, The Guardian also had a longstanding relationship with another illustrator with a history of employing anti-Jewish imagery, Steve Bell.
Eventually sacked in 2020 after 40 years working at the newspaper, Bell produced numerous cartoons that were sharply criticized, including one that showed Israeli Prime Minister Benjamin Netanyahu as a puppeteer controlling British politicians and another that appeared to compare the Gaza Strip to Nazi concentration camps.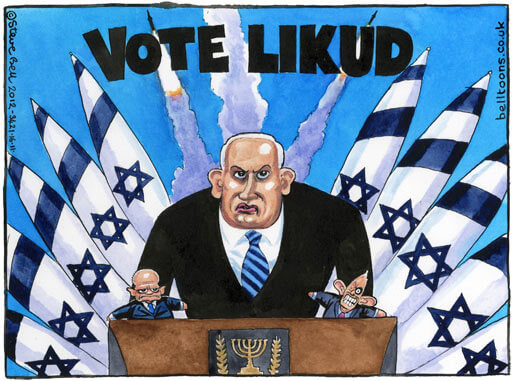 Moreover, The Guardian, while issuing a public statement apologizing for its latest editorial misjudgment, only put up a 23-word correction online that simply said the cartoon has been taken down from its website because it "did not meet [its] editorial standards."
As for Martin Rowson, he explained that "sometimes, like in this case, in the mad rush to cram as much in as possible in the 5 or so hours available to me to produce the artwork by deadline, things go horribly wrong."
Indeed they did.
While Rowson has issued a detailed explanation and apology, it is clear that, like The Guardian, he has a serious blindspot when it comes to Jews and Israel that prevents him from recognizing the antisemitism dripping from his own pen.
As he says in his apology, hopefully, this incident has served as a wake-up call: "Mea culpa. Mea maxima culpa. To work effectively, cartoons almost more than any other part of journalism require eternal vigilance, against unconscious bias as well as things that should be obvious and in this case, unforgivably, I didn't even think about."
While Rowson didn't think about this before, it was The Guardian's editors who, while claiming to be acutely sensitive to racism, prejudice, and bigotry, equally failed to recognize what was in front of them before publishing. It is they who need to start recognizing antisemitism and ensure their long track record of shame is finally brought to an end.
The author is a contributor to HonestReporting, a Jerusalem-based media watchdog with a focus on antisemitism and anti-Israel bias — where a version of this article first appeared.
The opinions presented by Algemeiner bloggers are solely theirs and do not represent those of The Algemeiner, its publishers or editors. If you would like to share your views with a blog post on The Algemeiner, please be in touch through our
Contact
page.