Art Exhibition Features Tefillin Hair Ties for Women
The most fun part of planning an exhibition is when you get to the works coming together for the first time. There is a magic that happens when you see art that touched the hands of so many different people, coming from minds from different worlds apart, unite in the same place.
This is especially exciting when you are a curating a show of international artists. Our upcoming exhibition Breath/Breadth features works by local artists in New York as well as several artworks coming from Europe and South America.
Today we received a package of tefillin hair ties designed for women by ook-fashion, a collaboration between the German artist Hannes Hein, seamstress Selina-Lou and models Babsi and Angela. Though we have never met in person, Hannes has sent his hand crafted women's hats made out of recycled kippot to us so we could include ook-fashion in our online store and pop-up shop.
ook-fashion's newest items are these hair ties, again taking a primarily male ritual, and recreating it in a way that women can embrace it as a fashion item with deeper meaning. This is the type of high concept, yet easily accessible type of art that we look for at Jewish Art Now.
Related coverage
September 13, 2016 3:38 pm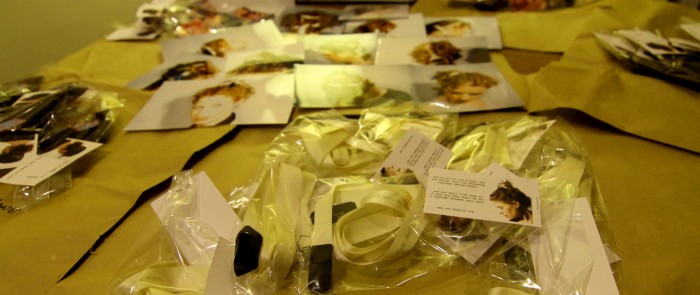 We received other hair ties of different fabrics, that include a dotted star of David. Normally the "Jewish Star" is a big no-no in our field, an obvious symbol used and overused in many a kitsch work of Judaica.
However, in the context of a German based designer, including a hip looking star of David means a lot more than it does in the United States. In the US we don't face anti-Semitism as Jews in Europe do. There is so much tragic history that coming out with a prideful article of Jewish content is almost unheard of.
The differences go beyond the content of the artwork, to even the way the artwork is packaged and presented. When we received Hannes' pieces, each selection was individually wrapped in brown paper, like a blast from the past. In US culture everything is wrapped in plastic, and wrapped again, devoid of individualization in favor of more standardized and sterilized product.
The inclusion of international artists helps open our awareness to how Judaism is approached on a global level, and how we can consider similarities and differences in this experience.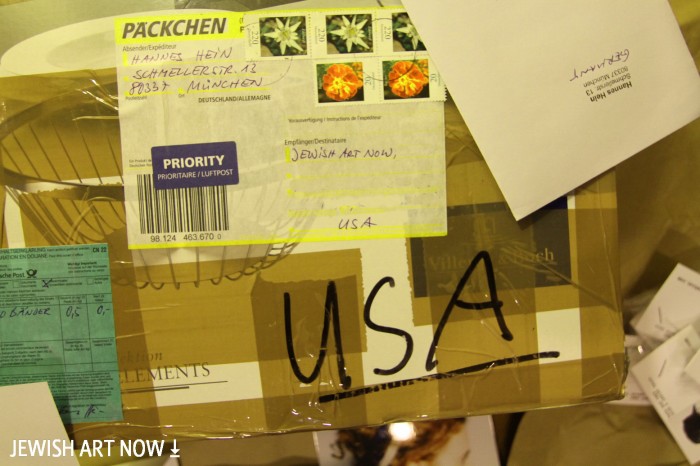 This is one of the major themes in Breath/Breadth, that there is such a diverse array of approaches to Jewish content contemporary artwork, but each artist is bringing the approach that comes from the world they are in, the reality of their situation, and that is completely valid as solid artwork when the art is true to their experience without sacrificing for others.
We look forward to receiving the artworks from our other international artists as they arrive and giving them a platform at our exhibition.
Breath/Breadth will be opening March 7, 2013 from 7-10pm at the Brooklyn College Hillel.